Nothing says "I love you" better than satisfying, heart warming fare, especially when it is served to you in bed! There is no better day than Valentine's Day to break out the heart-shaped pancake mold and enjoy super-yummy pastries. It makes us wish every day warranted a special breakfast-served-in-bed occasion. If you need to find
the perfect Valentine's Day gift
, get rid of the notion of flowers and chocolate, and if dinner is already planned out, make breakfast in!
Who wouldn't love waking up to this breakfast on Valentine's Day? No one!
Here are 14 reasons to dish out a little something special the morning of February 14th for your sweetie!
1)
Breakfast can be a natural aphrodisiac
. Fill the breakfast tray with coffee, avocados, figs, strawberries, and some whipped cream.
2)
Breakfast IS the most important meal of the day
. You are a hero for making sure it gets eaten.
3)
You can make an amazing breakfast for little money
. Unlike diamonds...no matter what, diamonds are expensive.
4)
Breakfast can be "outside the box
.
"
Chocolate is served in boxes, breakfast is on a beautiful tray. 'Nuff said.
5)
Breakfast is a heart-healthy meal
. Breakfast is very good for you!
6)
Even the calorie conscious will love breakfast in bed
. Fresh fruit salad with some Greek yogurt is an amazing breakfast.
7)
Pajamas are acceptable...no, REQUIRED breakfast in bed attire
. No suit and tie necessary.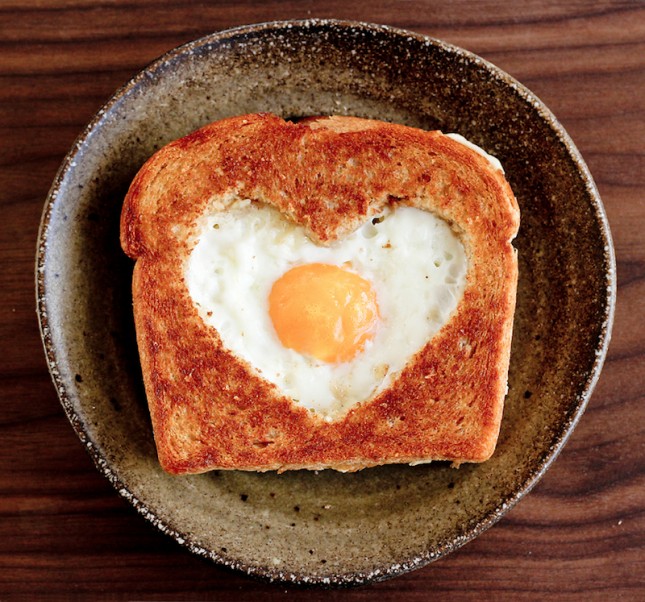 Nothing says "I Love You" more than heart-shaped eggs in a basket for breakfast in bed!
8)
You can satisfy anyone's palette with breakfast
. Whether your significant other is a steak and eggs kind of person, or loves a nice bowl of wholesome oatmeal with fruit, you've got it covered.
9)
No gift wrapping required
. Which is good because themed gift wrapping is expensive and wasteful. (You are still using the roll of Christmas wrapping paper purchased in 2007.)
10)
Breakfast doesn't die
. Flowers die. Flowers always die.
11)
You can make breakfast in bed sexy
. Get out the special china.
12)
Breakfast in bed says "I'm willing to sleep with crumbs in the bed to make you breakfast."
There is no stronger way to say "I love you" than dealing with a few bits of 'leftover' toast between the sheets.
13)
Get waited on for one morning only
. As most of us cannot afford the to pay the salary of a live-in butler.
14)
The breakfast tray is the ultimate way to serve up an additional gift
. See that little empty space on the tray? Fill it with a gift box from MyNameNecklace. Inside, include a beautiful
personalized necklace
the recipient is sure to love.